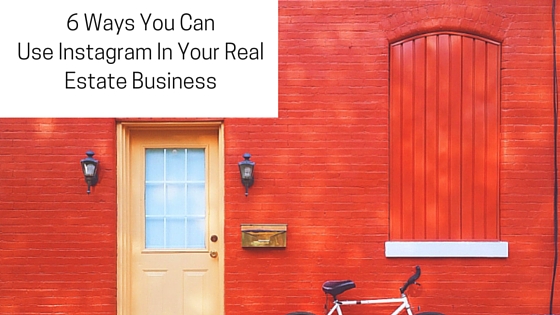 6 Ways You Can Use Instagram In Your Real Estate Business
Are you on Instagram yet?
If not, you are missing out. Instagram has gone from a new trendy photo mobile device app to a huge social network.
It hasn't slowed down either…As of June of 2016 Instagram boasts 500 million monthly active users, 300 million of which are active on Instagram EVERY day.
This photo sharing network should be your next tool added to your lead-generating toolbox.
When you use Instagram for your real estate business, you can share not only unique photos and videos of your listings, but also customer testimonials, behind-the-scenes of your business, and a personal look at your life outside of real estate.
6 ways to leverage Instagram in your real estate business
Share Behind-the-Scenes Action
Real Estate is an interesting topic! If it wasn't there wouldn't be an entire network and reality shows devoted to it! If you think about it, you have reels and reels of experiences you could share with your potential leads. Share your experience while you prepare one of your listings for a showing. Showcase the community that your local listing belongs to and highlight the "best of" parts of it.
Share Your Satisfied Clients
Showcase in pictures how happy the new couple who bought their first home is! Record a short video of your happy client expressing how awesome you have been throughout the complicated process of buying or selling a home.
(credit: curaytor.com)
Share Your Listings
When we say to share your listings, it may not be the way you are thinking. Do NOT use stock photos on your Instagram account. Instead, use quality first-hand images that you took yourself. And, instead of showing a bathroom as if it were part of a brochure, focus on the beautiful mirror or dual sinks the bathroom offers. Instead of the backyard, zoom in on the beautiful deck off the back of the house from an interesting angle. Remember, Instagram is a visual marketing tool.
Utilize Video
The buzz topic of 2016 for social media: VIDEO. Use video on Instagram to give a tour of your listing.The exciting news is Instagram has increased the 15 second limit on Instagram to a full 60 seconds! This opens up huge possibilities for your video strategy. Another idea includes video tours of local amenities; parks, neighborhoods, restaurants. Tip: Prepare your videos and scripts ahead of time. You still want to be professional.
(credit:techmediamarketing)
Use the Photo Map
Did you know when you post an image on Instagram you can "Add Location"? Even better, these locations show up on your Instagram accounts "photo map". How amazing is that! Your Instagram profile is a virtual MAP to all of your listings! You can also tag other interesting locations to your images. Ideas are: Restaurants, malls, parks, theatres, etc.
Share Your Personal Side
Show off your personal side every once and awhile! It's ok to show that you're a real, fun person.
The key is to know what to post, and when. If you feel an image may offend someone or be inappropriate, it's safe to say you should not post it. However, posting a picture of you and a former client enjoying a company BBQ can do great things for your personal images. Other ideas are posting selfies at charity events, local sports or community events.
Be Patient!
Do not give up on your account if you don't make an "Instagram sale" within your first month. As with any strategy, it takes time to build up a following and to begin to see engagement. It will take time to build your audience.
Keep at it!
Instagram is an AMAZING marketing tool for real estate agents. Imagine, you are automating the "get to know you" stage of the game.
By the time your prospect reaches out to you, you've already met for coffee and gotten the niceties out of the way.
And, as with everything in life, practice makes perfect. You will be amazed by what Instagram can do for your business.
via Intentional Marketer University - 6 Ways You Can Use Instagram In Your Real Estate Business